Risks are always a barrier to the path of improvement whatever the types of industries are. In fact the word 'Risk' is itself a risky word. If these risks are related to occupational health and safety must have to be reduced as soon as possible. To identify those risks first in an organization, assessors are the key to serve. Keeping it mind to build up expert and efficient OH&S risk assessors within the organization USA based audit, inspection, certification and training providing company Sustainable Management System Bangladesh organized a day long training on "Occupational Health and Safety (OH&S) Risk Assessor Training Course" in Dhaka yesterday, 08 February 2019.  
41 participants from different garments factories, brands, buying houses, audit firms, hotels and NGOs attended in that learning and interactive session as delegates.
The session was conducted by one of the vastly experienced and international trainers on Management Systems, OH&S Risk Assessment specialist Mr. Abdul Alim, President & CEO- Sustainable Management System Inc. Concepts of risk, classification, hazard identification, risk level evaluation, difference between risk and hazard, risk analysis, risk management, Break the process into activity, Identify Hazards with each activity, Prepare the probability-severity index, Prepare Risk level Index, Calculate the risk etc. were contents discussed whole day long. Mr. Alim mixed the session up tactfully with his flawless and energetic presentation, group exercise, question & answer and knowledge sharing.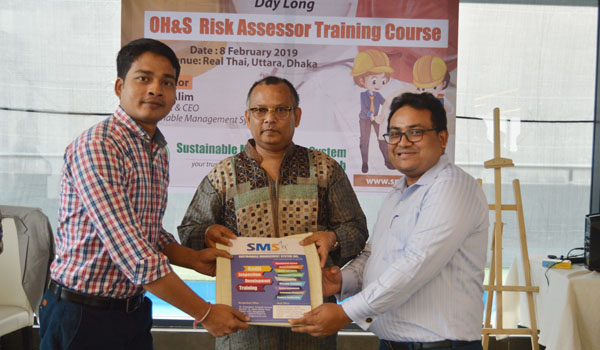 Mr. Azad Ahmed Patwary, Executive Director and CEO- Knit Plus Limited and President of the RMG Times Editorial Board, graced the session attending as the special guest.
Certificates of attendance were handed over to the delegates jointly by Mr. Abdul Alim and Mr. Azad Ahmed Patwary.
The session, being a successful one, ended with the good note that one can not fully eradicate risks from an organization but can minimize these as much as possible to uphold sustainability.