Bangladesh is the second largest RMG exporter in the world after China. Being the nucleus of the country's economy, the sector employs more than 4.5 million workers in which majority are covered by female. Every factory abides by the legal requirements that are mandatory to run business but there are a number of factories who have been performing some good practices that are uplifting the living standard of the workers as well as positively impacting to the society. To recognize those factories for the second time, The RMG Times, one of the fastest growing online apparel news sources in Bangladesh, has come up with the initiative of 'G. Güldenpfennig-RMG Times Best Practice Award 2019', a competition among the factories to make their good practices to the best.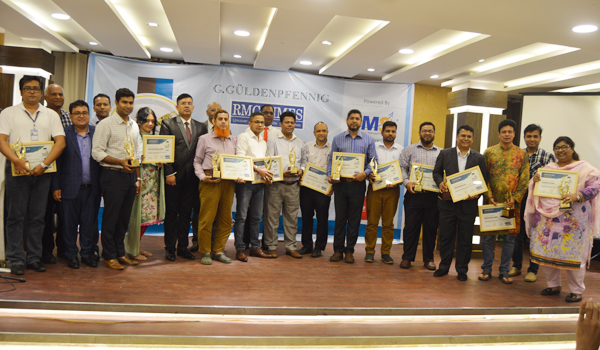 The grand award ceremony held on 15 June 2019 at Sector 7 Restaurant & Party Centre in Dhaka in the presence of a huge number of senior RMG professionals, BGMEA-BKMEA representatives, brand representatives, applicant factory delegates and NGOs/INGOs representatives of the country and beyond.
The event was sponsored by Sustainable Management System Bangladesh and G. Güldenpfennig GmbH, a buying house in Bangladesh based in Germany.
Ananta Garments Ltd.,Snowtex Outerwear Ltd., ACS Textiles (Bangladesh) Ltd., Comfit Composite Knit Ltd., Echotex Ltd., MG Niche Stitch Limited, Yasin Knittex Industries Limited, Tosrifa Industries Ltd, BRANDIX Casualwear Bangladesh Ltd., MAS Intimates Bangladesh (Pvt.) Ltd., Renaissance Group, Dekko Readywears Ltd. and AKH FASHIONS LTD. have been declared by the respected Judge panel as the winners because of their good practices, above the legal demands, for the betterment of life standard of the workers and employees.
The successful award ceremony came to an end with the commitment of making Bangladesh proud with positive approaches towards the workers, environment and society.